Worldmax International, Inc. was founded in 1991 by David and Susan Lo in Taichung, Taiwan. David, an 18 year veteran production manager of the Pearl Drum Co. in Taiwan, passed away in 2000 and his wife Susan became its director. Worldmax USA was formed in 1998 by Walt and Arliss Johnston in Nashville, Tennessee to distribute all Worldmax products in the United States.
Walt Johnston, managing director, has been involved in the percussion industry for over 45 years. He was instrumental in bringing Pearl Drums into the United States under their own name in the late 50″s and became President of Pearl International in 1979. After some nine years with Pearl, he spent nine years in Minnesota as general manager of Purecussion, Inc., a company dedicated to the distribution of the RIMS drum mounts. Walt consulted with the Gretsch and Slingerland Drum Companies briefly before forming his own business with his wife, Arliss and his daughter Mikki Johnston.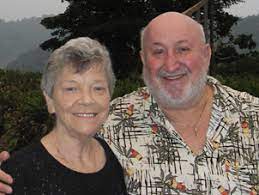 Arliss & Walt in 2007 in Taiwan
Maggie Kampa joined Worldmax USA in 2007 and along with Wendy Fike kept the warehouse running smoothly.
Sadly Arliss Johnston passed away July,13 2008. The following year.
Walt Johnston married Liu Chun. Liu who was a close friend of Susan Lo, who managed Worldmax International.
In September 2014 Walt and Liu sold Worldmax to Maggie and Rob Kampa of Nashville. Co-owners Maggie and Rob and Operations Manager Wendy Fike strive to maintain its great products, great prices and superior customer service. Unfortunately, Walt passed away July of 2015, he is greatly missed.
Rob and Maggie getting the keys to the kingdom….
Rob brings 35 years of drum building experience to Worldmax . Rob has had 5 major reviews in Modern Drummer Magazine for his company Magstar Drums. He has built over 3500 drums under Magstar and Walberg and Auge as well as other custom drum companies. He designs parts and helps companies through the production process.
Maggie runs the office! She maintains all facets of business interactions between Worldmax USA and Worldmax International. She communicates with customers , maintains inventory, and keeps the lights on :)….. Maggie and Rob are the parents of 4 grown daughters.